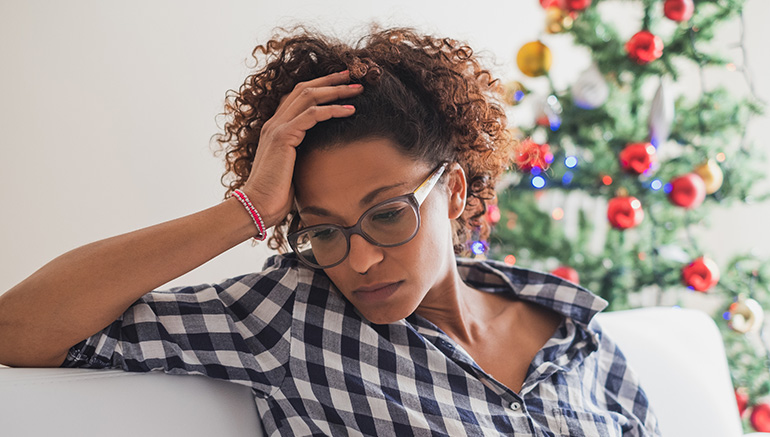 We hear this each holiday season, "Christmas is the most wonderful time of the year!" And often, we're told we should be full of gratitude during Thanksgiving. However, for many people, this is far from their reality and holiday stress is at an all-time high. And with this year's outbreak of Covid-19, the holidays will look very different for most. For those who already struggled with their emotions during the holidays, the pandemic has the potential to intensify these uneasy feelings. For those who look forward to the hustle and bustle of the holidays, it is also important to be aware of how the pandemic may affect your mood this year. Let's dive into some aspects of life that you should be aware of before the holiday blues rears its ugly head.
Loss of Sense of Self
Whether spent with family or hosting a Friendsgiving dinner, this year may bring a sense of loss regarding traditions and anticipatory plans. Some look forward to traveling while others long for some time off of work. Things are different this year. You may have been furloughed or decided to opt-out of traveling for safety reasons. With so many unknowns, you may begin to ask yourself, "What do the holidays mean to me when nothing is the same?" Take the time to analyze what really matters to you during this season.
2. Greater Isolation
Humans need connection. Isolation may lead to impulsive or mindless behaviors, which prolonged isolation often leads to. Be mindful of increased impulsive and mindless behaviors such as spending, eating, binging, and substance use. While these activities may bring short-term relief, they may cause more harm than good in the long run. Those who are already prone to anxious and depressed moods may feel a rise in these emotions while frequently alone.
3. Increased Impulsive and Mindless Behaviors
Depressed moods, anxiety, and just plain boredom can lead to behaviors we regret later. Be mindful of how you're spending your time alone. Is any of it causing distress in your life, whether it be financially or emotionally? Hours spent searching the best deals or staring at a screen can lead you to feel more fatigued and wound up.
4. Sense of Hopelessness
The inability to stay present, combined with a dismal outlook for the future, is one way the pandemic can decrease positivity. Anticipating that things will be different right away will cause you to feel a sense of hopelessness if things do not go according to your plans. Try to remain patient with yourself and with the current circumstances. Affirm that a better season of life is coming in due time.
5. Lack of Motivation
"The year is over; there's nothing left to do. What's the point? 2020 is a wash!" Have you noticed your mind shifting to these types of thoughts? Be mindful of mental negativity that may drag you down. 2020 will seep into 2021. While Covid-19 may still follow us into 2021, the negativity does not have to do the same.
6. Loss of Boundaries
Just because we are quarantined doesn't mean there can't be boundaries. Perhaps, you became a little more relaxed with your time and energy during Covid-19. You committed to one too many Zoom parties and possibly even reconnected with negative people to pass some time. There can be limits to Zoom encounters and FaceTime. It is still ok to say "no" to requests even if you have the time. You can also continue to stay disconnected from people of your past who were out of your life for a reason.
***
The holidays come with its own share of stressors, but this year is the time to be a bit more mindful. Take the time to become aware of these signs, especially if the past holidays have been stressful and not so joyous for you.
To learn more ways to deal with holiday stress, check out Harvard's article on holiday blues and their affect on your mental health.
For more ways to identify and further cope with the holiday blues this year contact us